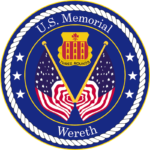 U.S. Memorial
Wereth
A tribute to eleven WW II G.I.s of the 333d U.S. Field Artillery Battalion and to all African-American soldiers who served during World War II.
A small memorial – A unique story
Welcome
On Sep 11, 1994, Hermann Langer erected a small stone cross to remember the eleven black G.I.s of the 333rd Field Artillery Battalion who were murdered by German SS after they had surrendered during the second day of the Battle of the Bulge.
This new memorial, inaugurated on May 23, 2004, honors their memory and all black G.I.s and segregated units who fought in Europe during WW II.
It is believed that this is the only memorial of its type in Europe.
The U.S. Memorial Wereth is a non profit association founded by private citizens, all volunteers. Their goal is to sustain a permanent memorial to honor and remember these men.
The Memorial is located in Wereth, Belgium, which is a tiny hamlet in Eastern Belgium, on the site of the massacre.
find here
Remembering is our obligation
Discover the History
We put together all information about the massacre and the backgrounds on our website. By browsing the three pages beneath, you can discover the Wereth Eleven story.
01
The History
Discover the story and events that happened in December 1944.
02
The soldiers
Meet the eleven black G.I.s, that were murdered by the SS on December 17th, 1944.
03
The Langers
Meet the Langer family, that opened it's door for the Eleven soldiers – despite risking their own life.
The association
Explore What We Are Doing
The U.S. Memorial Wereth VoG. is not only responsible for the actual monument, but also takes care of administrative and organizational aspects and fulfills an educational mission in society.
Ceremonies
Each year in May, the association organizes a ceremony attended by locals, US citizens and military representatives.

Memorial preservation
The association takes care of the memorial site and preparations for the ceremonies.
Spreading the story
We host projects and activities regularly and visit schools to share the local history and the Wereth story.

Research
The association stays in touch with historians and researchers worldwide and is currently looking for further pictures of the Wereth Eleven.

The latest news about the association and the memorial
News
The next ceremony
The next ceremony will be on May 21nd, 2022 – 11 a.m.